We're excited to announce the integration between ClearEdge3D's Verity & BIM Track. If you already have guessed what this means and just want to play with it, skip ahead.
Why Verity?
Verity, owned by Topcon, is one of the best point cloud software solutions on the market. Verity allows GCs to automate construction verification using scan to BIM to check installation status and accuracy against the design / fab models.
Figure 1.0 Compare what has been built against your design model
GCs and other managers can highlight, annotate, and share out-of-tolerance work with the subcontractors and other stakeholders using Verity. However, this is where it's easy for issue resolution to fall off the rails.  Information gets stuck in silos and inboxes, and there is no one place to see if these issues are being resolved. This is where BIM Track comes in.
What BIM Track brings to the table
BIM Track creates accountability and a central, digitized "paper" trail for all information relating to an issue. Issues can be assigned to individuals, with due dates for resolution.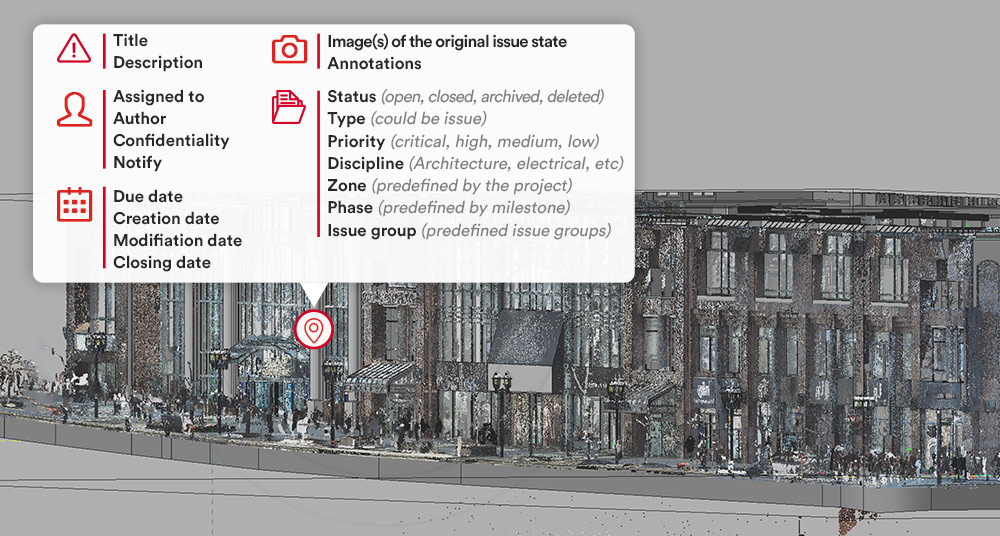 Figure 2.0 What's in a BIM Track issue
Comments back and forth between team members are associated to that issue, as shown in Figure 3.0, with the ability to attach documents and images in the comments feed. External stakeholders can be notified and can view all issue data including in-model context using BIM Track's web viewer or Navisworks add-in. Metrics on issue resolution progress are easy to read. GCs and PMs can drill down to problem areas and get their teams moving again.
Issues can be published to BIM Track directly from Verity in Navisworks. Think of BIM Track as the communications icing on your coordination cake. What's also really cool, from a kind of nerdy point of view, is that we have connected two 3rd party Navisworks apps.
Check out this short video from ClearEdge's Kelly Cone on how this integration works:
Figure 4.0 Kelly Cone, VP of Product Management at ClearEdge 3D, shows the features and benefits of the Verity / BIM Track integration for improved as-built variance issue resolution.
Start using the Verity - BIM Track integration
If you have Verity 1.5 or later and BIM Track installed, you can start using the integration right away. In Verity, you will automatically see a publish to BIM Track button. For written documentation regarding the integration, check out this page.
Not using Verity yet? Sign up here to find out more.
This integration works via BIM Track's API. If you are interested in integrating your in-house or commercial software with BIM Track, please reach out to me today.