N.B. This article is for anyone who takes on the project management hat for BIM coordination: you could be a general contractor, architect, engineer or an owner.
As a project manager (PM), you need an easy way to assign tasks & monitor issue resolution progress within your project at a glance. You need hard data you can drill down into to see any problems brewing. How do you currently check a project's health? How do you currently assign tasks?
If you are juggling emails with an eye-watering assortment of color tags, artfully crafting spreadsheets with complex charts and graphs, and / or using a task management system that is disconnected from your construction models themselves, you need to check out BIM Track.
We aren't just going to share why BIM Track will make your life easier. We're also going to see how our clients assess their multi-project deliverables on a daily basis using BIM Track metrics.
What were we thinking?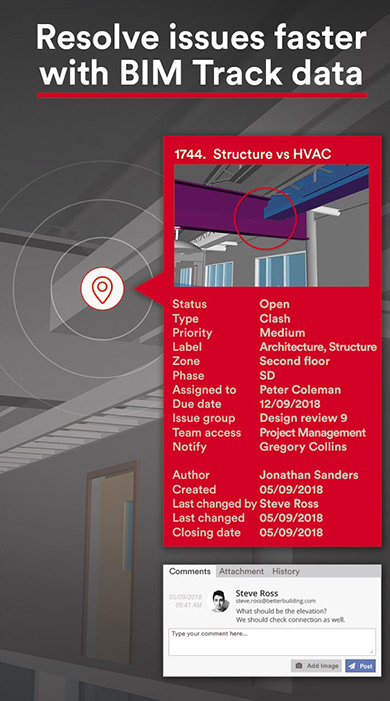 I want to share a little bit of the philosophy behind BIM Track. Think of BIM Track as your centralized BIM coordination communications tool. It doesn't require an overhaul of your existing workflow. It simply makes data around your coordination issues, questions, comments transparent. What kind of data? Due dates. Person responsible. Teams notified (like a cc). Any comments on issues. Any 2D docs associated with the issue.
We wanted to create something that was easy to use. Easy to learn. Something that even the tech-phobic can get into quickly. BIM doesn't always need to be about learning complicated modeling or clash detection software. Let's not even think about BIM; let's just think about building more efficiently using digital tools.
It's about breaking down information silos. It's about giving each team what they need to do their jobs. And it's about centralizing information where possible, or at least making it interoperable. BIM Track can be accessed from a web browser (which is where PMs are mostly using it), or directly in Revit, Navisworks, AutoCAD, Solibri and/ or Tekla Structures*.
* Is your team working in Archicad, Vectorworks, Graphisoft, DDS-CAD or other openBIM-friendly software programs? Using BCFs you can still track all your issues in BIM Track.
Why does it matter that BIM Track has multiple entry points for working in the platform? Because your modelers and coordination leads don't need to leave their existing work environment. This makes it convenient for them to raise, view, comment on, and resolve issues. Much better than nagging them to keep an external task management tool up to date.

Figure 2.0 Your team can stay working in their normal environment to raise, view, track, comment on, and resolve coordination issues with BIM Track.
We're living in a time when it's easier / faster / more convenient to DM / Slack / text someone rather than pick up the phone. Make it easy for your team to do the same, directly in their everyday work environment.
Measuring your project's health
So how can you go about managing your team using BIM Track? You can get an idea of the team's workload, what's overdue, what's a priority to solve etc. with a few simple checks, all within the Metrics section.
"The metric dashboards generated from [BIM Track's] raised issues gives us the ability to discuss day-to-day clash resolution with the client and enable early warnings to be raised with the design team when required."

  Ciaran Garrick
  Associate at Allies and Morrison, London, UK
1. Total vs closed issues
This is the first thing most of our PM clients check, coffee in hand, when they log into BIM Track's web browser in the morning (you can check it across devices inc. mobile and tablets). What you are looking for is both lines to be fairly close to each other...and for both to not be always increasing as is shown in our somewhat unhealthy demo project. If you have only a short time check out a project, this is what you want to look at.

Figure 3.0 The total vs closed issues chart in BIM Track allows you to take a high-level look to see if your issues are being resolved quickly enough.
2. Issue attributes chart
"Managing multiple coordination projects is difficult. [BIM Track's] "issues attributes pie chart" allows me to quickly see a status overall of the projects...I am able to filter by status, priority, and assignee.  Being able to track this level of metadata on a project is a game-changer!"
  Clifton Cole
  VDC Manager at The PENTA Building Group, Las Vegas, USA

Let's say one of my projects shows the gap widening between raised and closed issues. The issue attributes chart is where you really have the power to explore. Here you can search your project's issues by different attributes ex: by zone, priority, assigned to, etc. and drill down to get the full picture. Let's use an example where we filter issues by "Assigned to".

Figure 4.0 Issue attributes chart filtering by "Assigned to".
Now I know we like to work Eric hard, but he currently has almost 50% of the project's issues assigned to him. As PM, I will probably choose to redistribute this load. If I click on his "piece of the pie", I can drill down by either issue author, issue group, label (usually by discipline), construction phase, priority, status, type, or zone. As I explore, I see that Eric has been assigned issues in multiple trade teams; I'm going to delegate some of these to the team coordination leads instead and find out why they went to Eric in the first place.

Figure 5.0 Drilling down from "Assign to" to see a team member's task distribution, in this instance, filtered by "Labels" (usually denotes trade or team).
Funnily enough, it looks like I may be the problem; the vast majority of issues assigned to Eric were by me. He's turned into too much of my go-to guy. I'm going to let each trade's coordination lead know that I am reassigning Eric's relevant issues to them. I can bulk re-assign using our issue filtering options.

Figure 6.0 Change the "Filter by" dropdown on the left to see other attributes associated with a team member's issues (in this instance, the original author of the issue).
3. Mark the moment in time
You can include these metrics in your weekly coordination meetings, to track where you were in time. Check out a sample coordination report from BIM Track.
Anything else I need to know?
By now, you probably understand that you don't need a "BIM background" to understand your project's evolution. Why else might you find BIM Track useful?
Accountability. It's very clear who is assigned to something, and when it is due, which gives team members a greater sense of accountability.

Traceability. Nothing can be deleted in BIM Track, from comments to issues.

Ease of use. Smash those communication barriers with something all team members can use easily.

Are you working as a PM interested in BIM Track? Sign up and start playing around with it yourself or book a demo today.