It's certainly trendy to say the construction industry is undergoing a transformation from 2D to 3D. #DigitalTwinning 
But is a total overhaul of 2D construction documentation really going to happen any time soon? 🤔
Read on to hear our POV on the humble pdf, and how we are committed to supporting the evolving construction industry. 
Building from the BIM - is it an option?
First off, let's acknowledge that there are some really innovative and commendable ways people are building from the BIM: from 3D concrete printing to robotic MEP installation, to prefab construction, to AR applications like Spectar that facilitate installation from the BIM.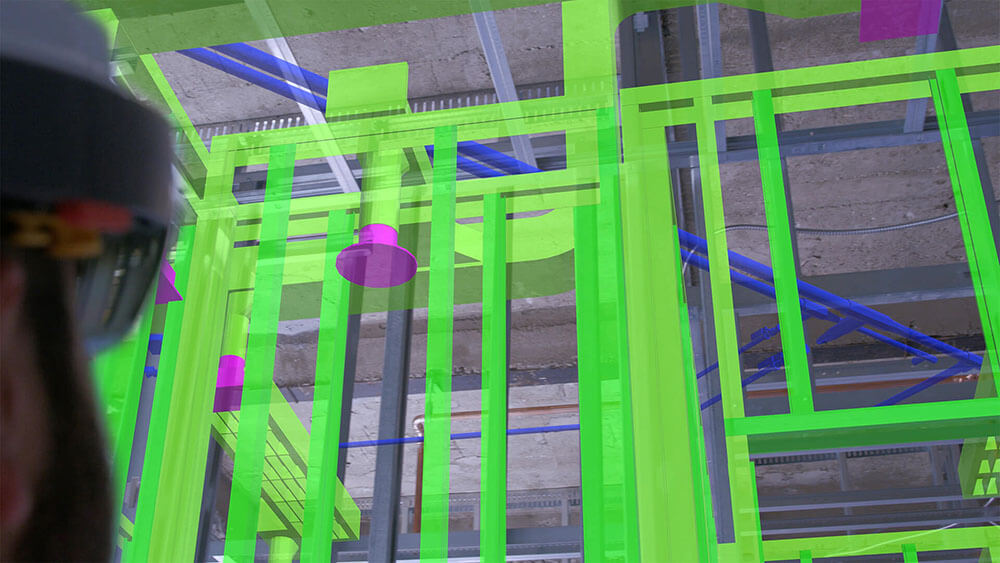 Image credit: Spectar.io 
We've even seen Spectar's co-founder Anthony Corrado building furniture in AR from the 3D model! 
Why building from the BIM can be a bad idea
Despite exciting possibilities ahead, the general consensus seems to be that building from the BIM is not usually practical. Discussing the question of whether to use the model as a construction document on Archinect, answers ranged from "Don't" to "Never" to "Helllllllllllls no."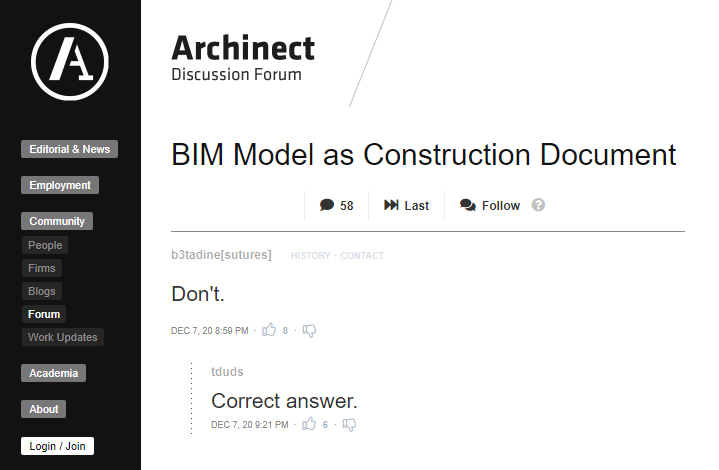 Figure 1.0. Strong opinions on Archinect as to why using the BIM model as a construction document is a bad idea.
Seems pretty conclusive. So why the cold feet about using the BIM for contractual purposes? The reasons include: 
Providing unfettered access to the BIM can be disastrous and have serious legal ramifications. 

It's unrealistic to expect 100% precision in modeling, which could lead to errors.

How do you put a legally binding "seal" of approval on a 3D digital model?
Why 2D construction documentation isn't going anywhere
As much as we love the "single source of truth" ideal of the Digital Twin movement, we think there's a blind spot. A critical aspect of the contractual process using 2D drawings is stamping - a legally binding sign of approval. How do you seal a 3D model?! It's not widely practiced because construction is a global industry, and regulations are different around the world. 
The reality remains that the overwhelming majority of projects still require 2D construction plans as the final contractual documents.
Why is this?
Project deliverables often include non-3D information - dimensions, specifications, code requirements. While they can be captured as metadata inside a 3D object, they're not necessarily easy to access, and can't be understood quickly during the tender process. This is why people fall back to 2D construction documentation. 
However, this can lead to some serious problems: 
Knowledge gap

- You don't want the most experienced and knowledgeable to be cut out of the picture. If you've got the 3D model made by the fresh-faced BIM guys, you want it cross-validated by the senior members of the team. 

Disconnected workflow

- if you have markups in 2D, and issues in 3D, then you have to duplicate efforts to track all the changes.

Dealing with a lot of pdfs

- comparing revisions can mean comparing 100s or even 1000s of pdfs. If there's one missing, it can be hard to generate a section on the fly. 

Discrepancies between 2D and 3D

- the 3D model needs to be as accurate as possible. If you manufacture from a set of shop drawings that are more detailed than the 3D model, how do you fill in the gaps for what's missing from the model? 
Democratizing access to construction documents
We need to democratize access to construction documents by unlocking the 2D elements from the 3D model and making them more accessible. We need a way to bridge the gap between project stakeholders who need 2D information and the people producing the models in 3D.
The BIM Track team is on a mission to enable teams to communicate effortlessly, without barriers. So naturally, supporting both 2D and 3D documentation is really important to us! 
BIM Track's web platform supports both pdfs and IFC models so that all stakeholders can access key information while getting a clear visualization of the project. Import pdfs to the BIM Track viewer or publish sheets directly from Revit and Archicad, and make plans and markups available to all stakeholders on a project. 

Users can markup pdfs, create issues directly on sheets, with unlimited people reviewing the same sheet simultaneously. You can track every single markup and issue you're raising across both 2D and 3D environments. 
The best part? You can overlay 2D sheets on 3D models for maximum context on your issues - we call this hypermodeling. This is really helpful for as-build validation, allowing you to spot discrepancies between 2D and 3D and make sure there's cohesion between the two deliverables.

If you're looking for an in-depth walkthrough of how to bridge the gap between 2D and 3D in your coordination workflow, you can check out our related blog post. 
Final words
From our point of view, 3D is more and more widely used these days, from job sites to assisting coordination meetings. Owners are also taking more interest as they see the value in data-rich BIM, and it is very helpful for allowing all stakeholders to visualize the design. 
However, for a true transformation of the construction industry to entirely 3D, there would need to be a major change in project documentation and project delivery approach. 
Is 2D going anywhere? Our bet is not any time soon, at least for the next 10 years.  
So, long live the pdf! 


Thanks for taking the time to read our POV on 2D documents in the construction industry.
We'd love to hear your thoughts, so please feel free to reach out via LinkedIn, Twitter, Facebook, or Instagram.