"

Does BIM Track work with BIM 360 Glue?

"
This is a popular question. While some clients prefer using IFCs in BIM Track's model viewer, the cool thing is you don't need to. If you prefer working in the Navisworks native file format or already have a model exchange workflow with BIM 360 Glue, you can keep using it in conjunction with BIM Track.
Which begs the follow-up question:
"

Why should I track issues with BIM Track on top of BIM 360 Glue

"?
1. It's EASY to use
You can raise, view, and resolve issues directly in Revit or Navisworks, with issues always up-to-date no matter where you are working. Even if you are sharing viewpoints with colleagues to solve internal issues, you will immediately see how much easier it is using BIM Track.
You're not changing your model exchange workflow in any way. You're simply adding issue tracking on top of it as a parallel process and it's not complicated to set up.
2. Easily share issues between Navisworks and Revit
Where BIM Track's communication power really shines, is linking issues between Revit and Navisworks. It is coordinate-based, so you can also navigate immediately to an issue in Revit that was raised in Navisworks and vice versa.
How is this different from using BIM 360 Glue solo? Let's take a look at BIM 360 Glue, and how it communicates. In the images below, we are examining the "switchback" of data between Revit and Navisworks, and BIM 360 Glue and Revit respectively.  The Navisworks viewpoint exchange works only one way: towards Revit.

Figure 1.0 The limitations of issue communications between Revit & Navisworks using BIM 360 Glue.
Same thing with BIM 360 Glue to Revit. The exchange between Glue and Revit is also limited to clashes. However clashes are not the only type of issues. Issues could be design intent discussions, code compliance issues, and much more.

Figure 2.0 The limitations of issue communications between Revit and BIM 360 Glue using Navisworks clashes.
What does this mean? It means anything done in Revit is not easily communicated back and forth between Navisworks and BIM 360 Glue. You're also missing critical metadata, which leads us to our next point:
3. All The Data
BIM Track offers a lot of metadata per issue. We call these issue attributes. More issue attributes give you as much critical information as possible, including priority, status, zones, phases, labels, issue group, team access and notify (like a cc).

Figure 3.0 All issue attributes that can be associated per issue. Please note many are customizable.
Why does this matter? It means you can review only the relevant issues quickly in coordination meetings or in your day-to-day work. You can also filter your issues for viewing or reporting by multiple levels of filtering by these issue attributes as we cover ⬇️.

4. Metrics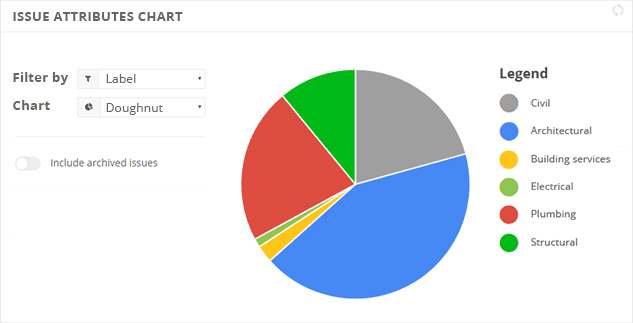 See if your project is on track by choosing the issue attributes you need. Worried about critical issues on level 2? Filter by those two parameters and see how your project is doing. Looking at overall project health? You can compare Total opened vs closed issues and explore the issues using the attributes. Check out this blog post for more on tracking your team's issue resolution performance in BIM Track.
5. Reports
Customized BIM coordination reports can be created based on multiple issue attribute fields so you are only looking at relevant information, in the order you need. Report templates can be created for rapid coordination report creation. Look out for scheduled reports coming out shortly too as part of our new task automation features. These scheduled reports are created and emailed directly to the appropriate recipients at predetermined intervals.
See BIM Track in action with BIM 360 Glue:

Figure 5.0 Workflow using BIM 360 Glue for model management and BIM Track for issue tracking.
We hope you enjoyed learning how BIM 360 Glue and BIM Track work together for better projects. If you have any other questions, please do not hesitate to reach out me via LinkedIn or our team on the chat of our website.
Ready to have a play? Start using BIM Track with BIM 360 Glue for free today.
Want to learn more? Book a short and sweet demo tailored to your needs.