Lionel Goedert, BIM coordinator on the Reims Grande Salle Événementielle project at Eiffage Construction, talk about his use of BIM Track.
Lionel Goedert, who are you? Tell us more about your career…
I obtained a technical university degree in Civil Engineering and then extended my studies on building and public works in an engineering school (CESI in Strasbourg).After my Master's degree in Civil Engineering, I completed my studies with Construction Project Management – BIM specialization. I graduated in 2018.
I did my master's program while I was an apprentice: during my studies, I faced theory and practice every week, and the two corresponded to each other. For example, when the BIM convention was presented, I wrote a "real" one in parallel.
Today, I am the BIM Coordinator and Project Manager for the project for the Great Event Hall in Reims at Eiffage Construction.
Why BIM ?
I have always loved to design. Already in 2013, during my studies at the technical university, when I had never even heard of BIM, I used to design small 3D models in SketchUp. Even if it was only modeling, it made me want to combine digital and construction.
I like the operational side, the contact with the construction site, but I know there is no efficient construction without digital tools. It's a necessary marriage to understand the whole dimension of the building.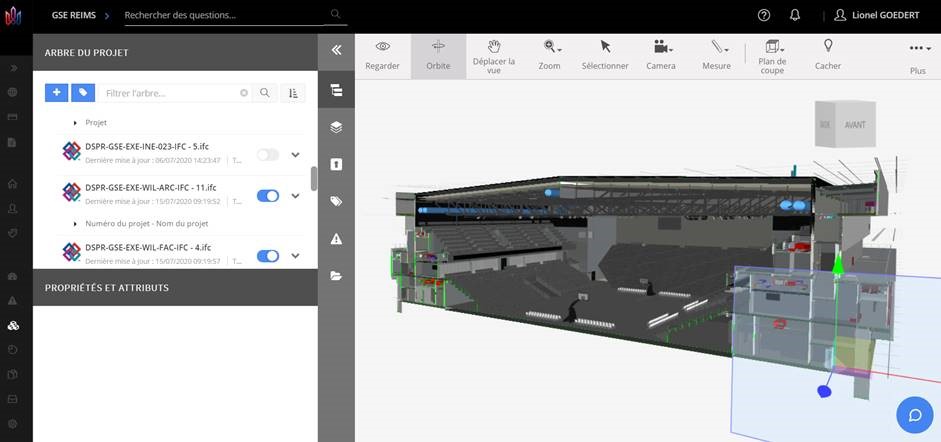 How about BIM Track in there ?
To do "real" BIM, competent people are necessary but not sufficient. You need a simple interface so that everyone can communicate in the same language, using the same procedures: that's how you do BIM.
According to the contract in the project I am currently working on, the owner must receive BIM deliverables. Therefore, architects, HVAC, structural, electrical design offices… everyone has to play the game. Of course, a BIM Management agency will accompany me on this operation.
I used BIM Track right from the start of the project because the EDM solution I was using was not enough to do "real BIM" with versioning of the mock-ups and a real follow-up of questions and BCF (BIM Collaboration Format). I needed an effective solution for the project partners to talk to each other. Anyone can easily connect to BIM Track. On this operation, everyone uses Revit, and all we had to do was install the plugin to access the platform directly from the software.
Was it easy to get started on BIM Track? For you and the project partners.
Yes, it is easy to use. Personally, at the start, I had some difficulties with the notions of hub and projects, but the support team quickly gave me the explanations I needed.
Overall, everything went well for all the partners, even if some slowed down a bit to adopt the platform, but this had nothing to do with the "degree of complexity" of BIM Track.
There are several categories of people who "slow down": those who are absolutely resistant to the multiplication of platforms, who don't see any interest in it, and don't want an additional tool. People who say "I'm not interested in your thing" … you have to sit next to them and show them how you do it "in practice". I've found that these people always come back to you: "Hey, look what I've done!". Finally, some find it "very good" but will never search for it themselves and will not even have the curiosity to open the platform.
What are the main qualities of BIM Track ?
The platform is simple to use, easy to access… of course, as long as you have an Internet connection. BIM Track is also effortless: I don't hear anyone grumbling, "I have to open the model". Once it's downloaded, everyone can consult it: for example, the site managers are happy to open BIM Track to visualize the building and express themselves better.
For those who work with native BIM software such as Revit or Archicad, the plugin is a must: simple to use, it allows quick clash detection and good communication between the software.
What is your most memorable BIM project?
It's the one where BIM didn't "work". During my studies, we decided to propose a BIM project. Everybody was very willing and gave ideas, but nobody was actually doing anything. It happened at the beginning of my Master's program. I was 20 years old, so I didn't necessarily have the legitimacy to position myself as a BIM Manager; working on this project made me understand that BIM is impossible without collaboration and coordination. This experience was rich in lessons, and that's why this is my most memorable BIM project.
How about tomorrow? How do you see the future of construction?
That's a great question. I hope that all BIM processes will be smoother and available to all. I mean SMEs in particular. Today, I notice that I can't do what I want in BIM in the execution phase. A bricklayer or plasterer does not take part in BIM because, for the moment, the existing platforms do not allow everyone to model and enter information or technical sheets easily. I hope that we will soon be able to do real technical control on the models in execution. BIM execution doesn't exist, or only on projects costing more than 100 million euros. I hope that BIM will be democratized in the future.