You probably don't give much thought to customer support. Until you need it - fast 💨.
In this blog post, we'll introduce you to three invaluable resources for #BIMTrackers: customer success managers, technical support agents, and our help center. 
Check out this short video intro below or jump down to dive in 
I'm new to BIM Track and I'm a little lost.
Where can I get started?
Starting anything new comes with a learning curve. Add to that a tight project timeline and a global pivot to working remotely during the pandemic, and you might feel a little overwhelmed.  
One great way to get started is to explore BIM Track's demo hub. The demo hub is a sample project that's already set up with IFC models, sheets, issues, and recommended settings. Think of it as a temporary sandbox where you can test out BIM Track without having to worry about making a mistake! Just make sure you don't put real projects in here as it resets every 30 days.
Fig 1.0: Explore BIM Track's demo hub to test out features and get comfortable using the platform before implementing it on your projects.
Every BIM Track user also has access to a customer success manager, who acts as their point person to make sure you're making the most out of BIM Track on your projects. 
The team has decades of combined experience in the AEC industry, with backgrounds in architecture, civil engineering, BIM management, and practical knowledge gained from working in the field.
Your customer success manager will focus on your company's and/or project's workflow, and help you implement BIM Track to improve your issue tracking and resolution process. You can also register for ongoing live training sessions to help your team get off to a strong start. 
"People want to talk to somebody, they don't just want to look at a web page. It's those spontaneous conversations that are so valuable - it's so important to have that human connection. The fact that we're there for our clients is really important. I've been especially busy since the pandemic helping people to set up online workflows."
Jean-Claude Bédard
Customer Success Manager 
I'm using BIM Track and have a problem - what do I do? 
In the real world things can, and do, go wrong. Even if you've been proactive in setting up your project for success, chances are you will need some on-the-fly troubleshooting eventually. 
Enter: the support team. You can reach a technical support agent directly from the chat in BIM Track's web platform. They'll take you through the problem, point you to the right resources, set up a zoom call - whatever you need to get back on track.
Fig 2.0: Reach technical support directly in the BIM Track web platform via chat. 
"No product ever works absolutely perfectly (except maybe Japanese cars). There's always something that can go wrong. In the vast majority of cases, people shouldn't even know we exist, but in the rare cases where something goes wrong, it's very important to have support in place. We're there so that the problem isn't incapacitating, but something that can be solved or worked around." 
Adam Szanyi
Technical Support Agent
"I love problem-solving - I never want to leave an issue hanging! My previous experience helped me get into a flow and be really effective at managing those support cases." 
Caleb Gonsalves
Technical Support Agent 
You can also search for support articles on the topic you need on the dedicated Help Center. 
Fig 3.0: BIM Track's Help Center is full of resources to help you succeed with BIM Track.
"I love the variety of things that I document. There are so many integrations and add-ins, so we need to know how everything works and be prepared to answer questions." 
Véronique Larocque
Technical Writer
What do you do with my questions and feedback? 
For us, customer success is as much about listening as it is talking. We take customer feedback to heart, and use this invaluable information to inform our product development and support documentation. 
"Feedback from customers brings a lot of added value to our product. Encountering an issue helps us to understand the reality of our clients, and make the product even better. We loop back to the product team, we submit ideas to the ideas portal, we even notify people when we make an update based on their feedback! Every voice is heard and taken note of - we take pride in that."
Shane Poitras
Technical Support Agent
"We're always listening, and feeding back information for product direction. We've got our finger on the pulse of what our clients want." 
Matthew Londei
Customer Success Manager
What do our clients say about customer support?
Don't just take it from us - here's what our clients have to say about our customer success and customer support teams. 
"The BIM Track team is very attentive to our needs: its customer service is super efficient. This morning, I had a small blockage on a project. I simply asked my question in the dedicated chat and in 2 hours I had my problem solved." 
Damien Haultcoeur
BIM Manager at Bouygues Bâtiment Centre Sud-Ouest
"The customer service support that I have received has been exceptional, any issues or questions that I have encountered and brought before the customer service team via the live chat function have been resolved. On the rare case that it could not be resolved, the team has provided other options as a work around until a solution could be found." 
Gilbert G.
VDC Engineer at Turner Construction Company
What advice would the team give to someone getting started with BIM Track? 
"Having a successful BIM Track project is all about how you set up your attributes - this is where it's pulling all the metrics from. So make sure you take the time to set those up in a way that's beneficial." 
Lolo Princewell
Customer Success Manager
"Take the time to go through our help center documentation and training videos. You might learn something that allows you to do a task twice as fast! An hour or two doing your homework before jumping in will save you way more than that in the long run."
Adam Szanyi
Technical Support Agent
"When you start, you are going to have so many questions! Use that search bar and see if you can find answers in the Help Center. You can even search from inside the BIM Track app for articles to help you."
Véronique Larocque
Technical Writer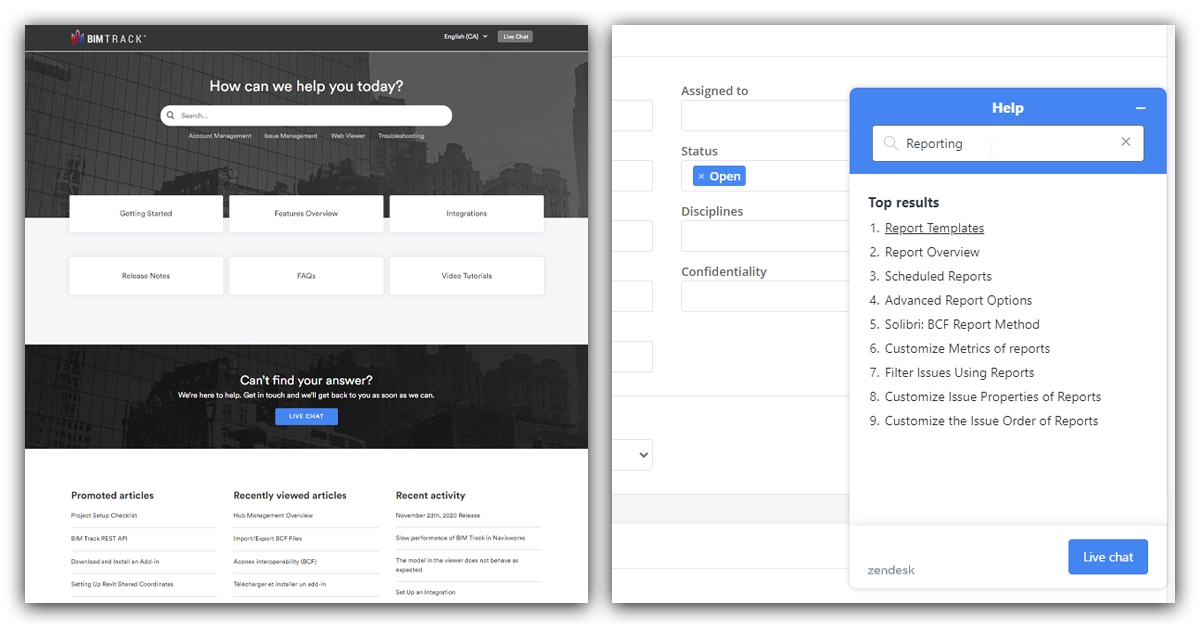 Fig 4.0: Search support articles in-app or in the help center to find answers, fast. 
What do the Customer Success and Support teams love most about their job? 
"The best part is when you find a solution - that's always it. And it's even better when it's not just a technical fix, but we can make someone's workflow better, and improve their day-to-day life. That's the real win." 
Adam Szanyi
Technical Support Agent
"Hearing how clients use specific attributes or part of the platform to define a unique workflow or something pertinent to their project. Seeing clients' creativity with BIM Track and out of the box thinking is really cool, seeing how they've taken the training and put their own touch on it." 
Matthew Londei
Customer Success Manager 
Thanks for joining us for this conversation with our Customer Success and Support team - we hope you feel like you know them a little better now! 👍
For more information, don't hesitate to check out our help center articles, YouTube videos, and register for live training sessions. 
You can also check out my LinkedIn article on the coolness of support.