Let's say what we all know to be true: construction project management is hard, expensive, challenging work. People enter the construction industry from all walks of life, but once they're in the thick of it everyone knows how important it is that it be done well. 
For managers, work in the industry can be mentally exhausting. From timetables, material requisitions, labor coordination… it's tough. And we're all human, we know that mistakes can and will happen. But in this field in particular, mistakes can be costly, in more ways than financially.
"I'm just now, internally, asking myself – in quite a worried way – whether I might have made an error?"
Generally, most people assume the BIM process is only handled during the design phase, but you can also use BIM Track to improve outcomes on the construction site. Let's take a look at some ways it can help. 
Managing Deadlines and Expectations
Let's start with forecasting and deadlines: great if planned realistically, but far from easy. Owners often want projects delivered as quickly as possible to maximize their ROIs, so finding a way to manage their expectations is key. 
Luckily, BIM Track's BIM coordination tools can help get everyone on the same page. 
From an owner's perspective, as a construction project reaches its mid-way milestone, the owner is mostly likely only going to see some printed plans, and a jobsite filled with construction materials, dust, and a big mess; it's hard not to see the forest for the trees because owners have sunk money into the project and don't yet have anything to show for it!
So how do they react? Some might react by stressing out or nitpicking everything as a way to regain a sense of control.
"Hey wait a darn minute… There's no tractors in these plans! None of this looks like the plan! I'm gonna call my lawyer!"
But if they are connected to BIM Track, all they have to do is log in and they can see every issue that the teams have worked on, including upcoming issues, and which have priority. They can also see who's  been assigned to handle various issues, and can ask questions or offer comments on how best to settle something. 
BIM Track keeps the owner informed, which means it keeps owners as active collaborators on a project, so they know when a project will hit its milestones, and have a clear way to adjust their expectations as time goes on. 
And to get a snapshot of how BIM Track is increasing their ROI, they can always use the ROI Calculator.
Managing Personnel
All construction projects are dependent on the work of real human beings collaborating to build something long-lasting. So while BIM Track may not be an HR tool, there are ways it can be used to help manage people and workloads. 
Let's take the example of absences; if the right person for the job is not there, it'll be hard to get the job done, and workflows will need to be modified accordingly. 
Consider this scenario: a clash is detected between a pipe and an air duct. The nature of the clash is such that either the plumbing engineer or the HVAC engineer can resolve it, though knowing the current cost of materials it will be slightly less expensive if the HVAC engineer re-routes the duct in the model. 
So the BIM manager assigns the issue to the HVAC engineer. However the HVAC engineer is on bereavement leave for a few days and won't be checking their messages. 
Knowing that a two-day delay in resolving this issue could end up being more expensive than the added material costs, the BIM manager makes the call to reassign the issue to the plumbing engineer instead. 
All of this is handled directly in BIM Track with the issues management pane, so that while the preferred solution was impossible, the project remains on schedule.
"Another crisis averted! Good job everyone, now let's go play with pretend lightsabers!"
Communication nightmares
Emails. 
Text messages.
Slack messages.
Phone calls.  
Every stakeholder has their own communication habits, and tracking these down can be a nightmare. The fact is that centralizing your communication is absolutely necessary for construction field coordination. 
An engineer friend of mine, whose principal clients are municipalities, tells me – with great heaviness in her voice – that much of her day is spent being stuck in the hot seat between project stakeholders as everyone comes to her with their worries and troubles. She feels like she's being pulled in every direction, and all she wants to do is actual engineering work!
"If I pray to the universe, maybe… JUST MAYBE… my phone won't ring at the same time that I receive 35 emails in under a minute."
With BIM Track, these kinds of communication nightmares are a thing of the past. Every issue includes the ability to attach files, photos, and comments, which together create a history of when an issue was first identified, who took action to fixing it, and how it was ultimately resolved. 
What's more, BIM Track is also available in the field with the BIM Track Mobile app (available for free for iPhone and Android phones), making construction jobsite coordination easier than ever. Issues can now be accessed and updated on-site, which reduces the need for RFIs from contractors: just a few swipes on any smartphone and they'll have the same information as the managers back in the office. 
This means that any communication you need for your project can be handled directly in a single, easy-to-use, centralized source.
Contract Management
Paperwork. 
Forms. 
Legalese. 
They're a necessary part of any construction project, and they keep everyone protected. But boy oh boy can they slow things down!
So how can BIM Track can help with contract management? In 2021, Damien Haultcoeur, BIM, Innovation & Digital Transformation Manager at Bouygues Bâtiment Centre Sud-Ouest explained how his team used BIM Track in their non-BIM-related workflow:
"Coordination via BIM Track is not limited to BIM: one would consider BIM Track as an elitist tool dedicated "only to BIM people," which is not the case! Our use goes further. Many actors on BIMTrack also use it to fulfill "non-BIM" needs (administrative, contract management, etc.). BIM Track allows us to organize, finance, log, and trace the life of a project to avoid "disruptions" (online losses) during the transitions of the major phases of a project. Time is money; BIM Track saves us time."
For example, the Attachments tab on the platform can include PDFs with digital signatures, which creates a library of legal paperwork that anyone can access if they need a quick reference. Other uses can include tools for reporting, like budgets and expenses.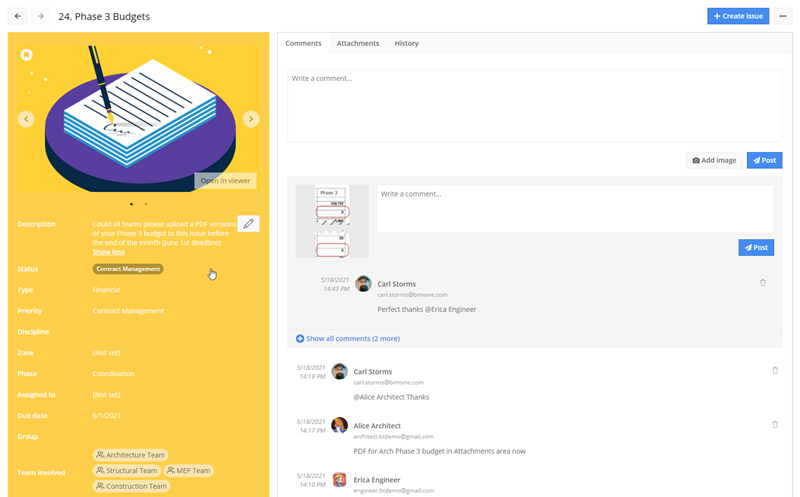 How to engage in contract management with BIM Track
This increases accountability, and ensures that everyone has the information they need at their fingertips, even if they're non-AEC stakeholders who would not otherwise use BIM software.
As-Built Data Gaps
Projects eventually come to an end. Sometimes they come to an end with a ribbon-cutting ceremony and cartoonishly large scissors. Other times they close with a sigh of relief before the next project is tackled. But every project has lessons learned for next time. So how are these data gaps transmitted to the next team of stakeholders? 
One innovative way that BIM Track users have adapted the platform (outside of the original scope of the designers) is to create new projects for the purpose of recording lessons.
Take, for example, a renovation project of a 100-year-old building. The original plans were out of date and there was limited knowledge as to what conditions would be like until construction began. Issues had to be managed as they came up, and it was challenging work for everyone.
Each time a non-standard issue was resolved in BIM Track, the BIM manager copied the issue and all of its associated attachments and added it to a new project called "Historical Buildings Renovations - Lessons Learned". Each issue became a conversation thread about how a particular problem was discovered and resolved, with comments, pictures, and plans linked throughout for ease of reference.
Going forward, the stakeholders who collaborated on this project – as well as new team members who joined after the project concluded – had valuable insights the next time they worked on a similar project. No need to reinvent the wheel!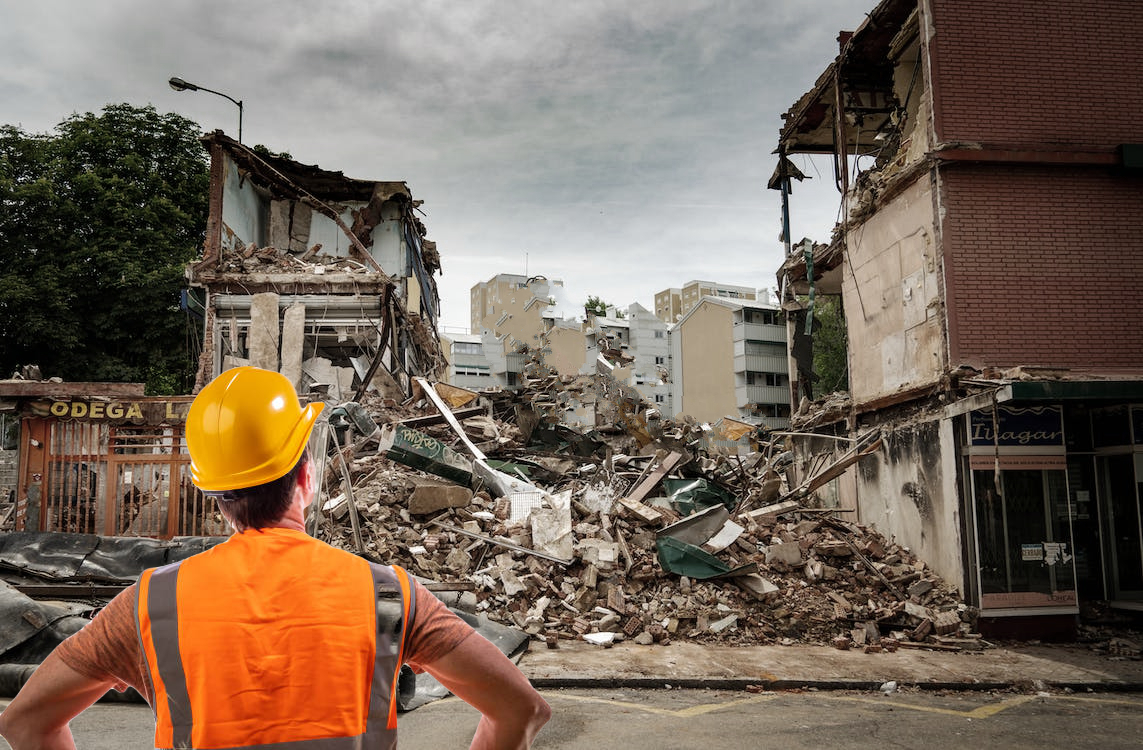 "Hmm…. lesson learned!"