Article published in Construction Dive on Jul 29, 2020.
We are pleased to announce our latest integration with Enscape, a leading provider of real-time rendering and virtual reality technology for the global AEC industry. Enscape is renowned for creating photorealistic renderings that allow users to communicate design intent to clients, and validate ideas internally during the design phase. 
In response to demand from their customers, the team at Enscape has been working hard to develop an integration between the two platforms, and we are excited about how this integration will augment Enscape's existing features for an improved design review workflow.
The new BIM Track + Enscape integration allows users to sync issues created and edited in Enscape with BIM Track's centralized issue-tracking platform. Complete the design review workflow by taking issues and comments raised in Enscape back into authoring software like Revit, AutoCAD, ArchiCAD, and Vectorworks via BIM Track's integrations and workflows for quick design changes and resolution.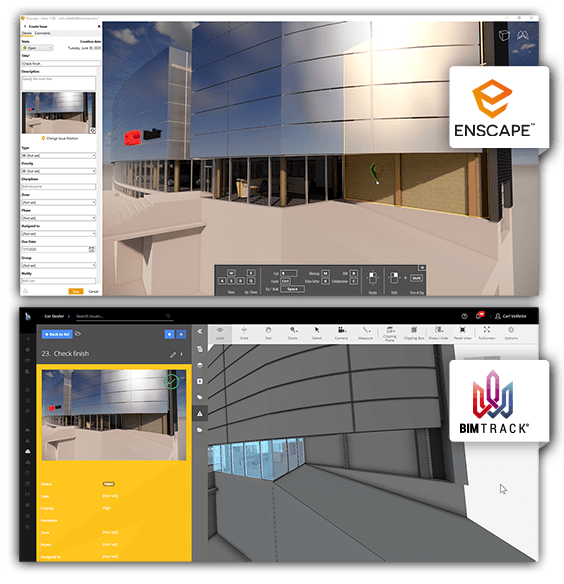 Caption: Raise and edit issues in Enscape and sync with BIM Track for an improved design review workflow. 
Every issue includes a high-resolution screenshot from Enscape, location marker, and comments thread documenting all communication and changes. Use the integration to collaborate with clients, validate and communicate design changes internally for quick feedback and improved collaboration. Changes are kept up-to-date via live synchronization, and all stakeholders - even those not using Enscape - have easy access to issues.
"The BIM Track and Enscape integration is advancing how teams perform design review & coordination sessions today. Immersive meetings and efficient communication workflows are how firms differentiate their approach to collaboration in our competitive industry. This new integration truly is a symbol of innovation and will drive our common customers to be more efficient on their complex projects."  


Carl Veillette,
Co-founder and VP Product, BIM Track. 

"If you need more in-depth functionality, Enscape now integrates with BIM Track's issue tracking platform. What a game-changer!"  


Joseph Kim,
Project Manager, MJM Architects.

Make sure you don't miss some great opportunities coming up this month to learn more about the integration:
Join the BIM Track and Enscape teams for an introductory discussion about the new integration. This is a great opportunity Q&A with product experts from both BIM Track and Enscape!  
Use-case Demo: 29th July, 11:30 am EDT
Join BIM Track and Enscape user Daniel Hurtubise for a use-case demo to see how the integration works on a real-life project. This session will go into the technical side of the integration and how to use it.