In this instalment of Meet the #BIMTracker, we've interviewed Aaron Maller, Director at Parallax Team (aka @twiceroadsfool on twitter, forums, and pretty much everywhere else he dwells). Aaron is the king of speaking the truth, even when it's uncomfortable. Conversations with him are always enlightening as well as entertaining. Join us for the ride.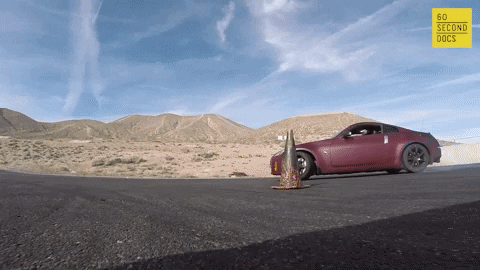 What first got you into BIM?
It was 2005 and I had just graduated from college. I was working for a small architecture firm in Buffalo NY (blissfully ignorant, in AutoCAD), but I wanted to move back home to Syracuse, and no one was hiring. I took some temp work with an electrical subcontractor, and on lunch break I saw this strange classified ad (it looked shady). It essentially said "Come work on a huge architecture project but you have to learn this 3D software."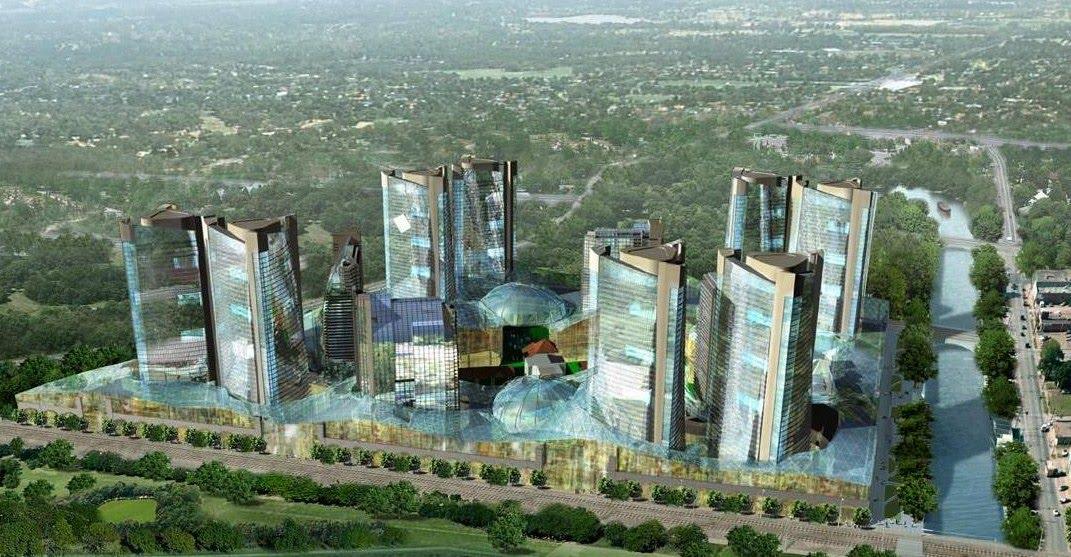 The Project: Destiny USA

So, I interviewed and got the job, and sat down to learn about Modelling for Architecture. Immediately, I knew there was no going back. What I saw in the first twenty minutes was that the disparities between drawings didn't HAVE to exist, anymore.
The downside, of course, was it was a total trainwreck. The project was a massive shopping mall complex, with a lot of wild shapes and complex systems. The 3D software was Digital Project, by Gehry Technologies. None of the architects had used it before. There were no BIM Managers, just software trainers, so the project team decided to throw people at it and "see what happens". The folks from Gehry trained you on how the software worked, but no one wanted to manage the process strategically. After learning multiple techniques to model the same objects, no one wanted to answer which method "should" be used for any one purpose. In turn, it was much like Digital Deconstructionalism: There wasn't really any *truth* to how things should be done, just opinions, arguments, and endless rework precipitated by a "whomever was there last" philosophy. I made my first instructional user guide here. Print-Screens, written on with blue pen and photocopied. I was writing it at 4am, in the office, hoping to stop-the-bleeding on a team of people constantly redoing each other's work.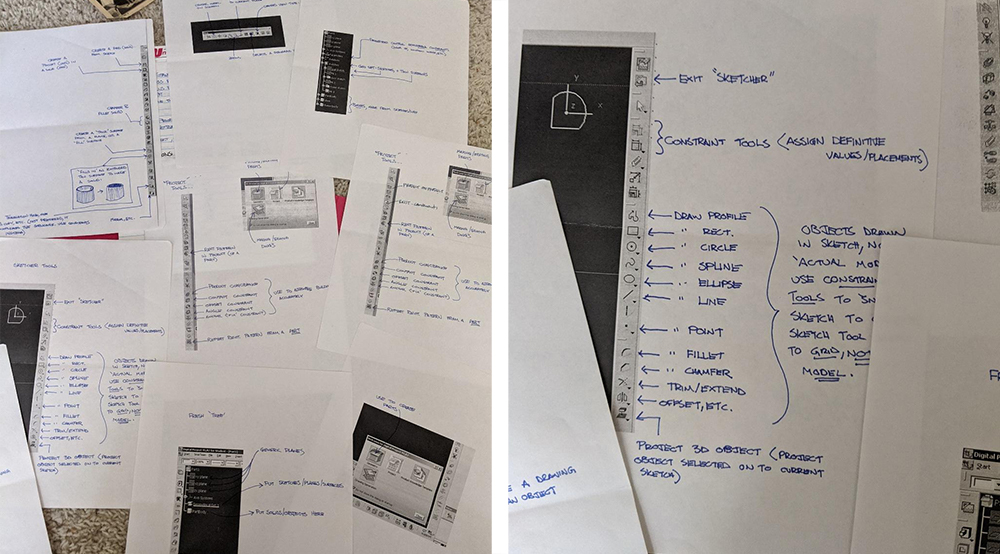 This project, unsurprisingly, ended in 3-4 months. With 100 people suddenly out of work, prospects for a just-graduated architectural intern were slim. I packed a car with one week's worth of clothes and moved to the Hamptons in Long Island, having seen ads that there was work there doing Residential and Commercial Architecture. My first work there was in Vectorworks. Another firm later, I was in ArchiCAD. But the Hamptons were EXPENSIVE at 24 and after a few months (still with just the one carload of clothes and stuff) I really wanted to go back to Syracuse. 
One of the other firms that had been on DestinyUSA, Dalpos Architects, was working on other large retail mall projects in Revit and looking for a renderer, so I applied for a job there and moved back. Back in 2006, there weren't any BIM Managers or a real strategy. It was: take two weeks to figure this software out, then the project starts… But it was great work. I spent 3 years with them, designing and building shopping malls in Florida, Texas, and California.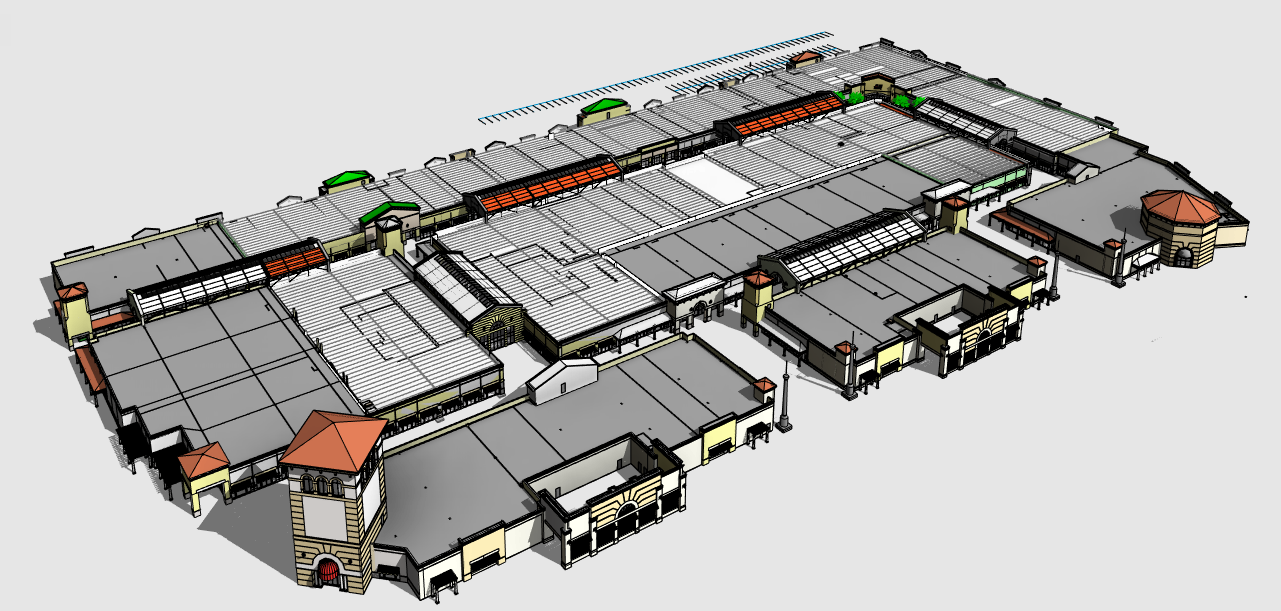 The first mall I worked on in Revit.
It gave me the Revit bug, but I was also doing architecture, which I loved. But there was still the strategy debate: there wasn't one, so it was all just opinions and arguing. There were 7 of us on that first mall project, and parts of the building that were identical, looked different on paper. That just can't happen. I realized fairly early on (when a large gentleman named Roger may have thrown a set of drawings at me in a conference room) that I had to either work on projects small enough that I could work on them by myself, or id have to shift to teaching or leading, lest the infighting would never stop. 
Interesting side note: This was around when I met Daniel Hurtubise, another BIM Tracker, who randomly messaged me on MSN Messenger one day. It was also around the same time Kelly Cone and I began arguing on the AUGI forums, which would eventually lead me to Texas. I remember my first DM conversation with Jim Balding around the same time asking for advice about AU as well.
What's your favorite part about your role at Parallax? 
I really enjoy
When we uncover something that someone hadn't expected, and

We teach somebody something they didn't realize they could do.
For me it's really fun, especially with construction jobs, uncovering and correcting things before they gets to the field. When it happens with architects and engineers, you can see on their faces how much they appreciate it, especially with problems that have dragged on for months.
It's really not even a BIM vs non-BIM thing: It's always technically been a design team's job to make sure that things were coordinated and buildable. Everything we find during our Design Reconciliation workflow has always been a design team's job. Basically, it's our job to redo someone else's job, in a way. Weirdly our role shouldn't exist. But the unfortunate truth is: Modeling has made good teams better, bad teams worse, and teams somewhere in the middle tend to fall one of the two ways.
Our work is either working on construction jobs finding issues, or teaching architects / engineers how to use software to more efficiently do their job. This type of job didn't really exist when you were hand drawing.
That we're using our model (and not the design model) as a backchecking instrument, has led to some other interesting developments. We have some really neat apps for this work, especially as John [Pierson]'s been making apps related to the DR workflows we're doing for GCs. We have one that's not even for sale, called RevisionRunner. In Revit, we can track what drawings specific objects are coordinated with/against. So say if we get 10 sets of drawings and ASI's, you can click on an element in the model and see which set of drawings you've updated it too and which you haven't. It's been great for internal use.
RevisionRunner, a custom app by John Pierson from Parallax Team.
What has been your most memorable project to date?
I've loved a lot of them at Parallax Team, but the most memorable is from when I was at Beck Group: it was the Rory Meyers Dallas Arboretum and Children's Garden. It is a crazy design, check it out: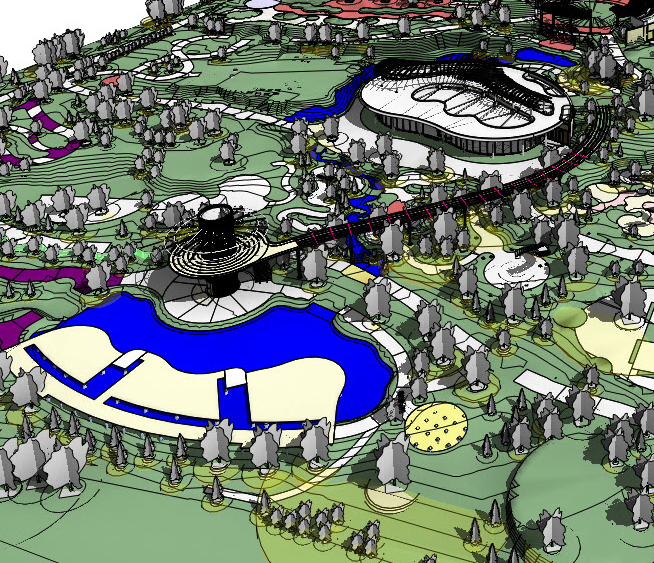 The Rory Meyers Dallas Arboretum and Children's Garden, 2012 
A lot of people who don't know us think that this Design Reconciliation work is something we dreamed up. But what happened was someone asked us for a model of underground site utilities to coordinate around all of the trees. We thought we would take a couple of days and model all these small buildings, but when we tried to model the Discovery Center (kidney shaped building in the middle), the dimensions were wrong. It snowballed into this whole thing where we had to tell the architects that the dimensions in the drawings weren't right, which put us in a very uncomfortable place, especially when we realized we would have to remodel everything, and then do the underground utilities. 
Bridging that gap between Design and actual Construction is what we do.
What was your first impression of BIM Track? 
"I'm not going to try this tool because it does something I don't need"
I've actually come full circle on this. Originally I thought you had to export a model to use it, which is why I stopped using Revizto. There are a lot of time constraints around exporting a model when things are changing from hour to hour, and it just wasn't viable for us. 
The first time I actually used BIM Track (admittedly after I got nagged by @alexinegs) I realized I didn't have to export a model at all, at which point it was very fast and easy to use. 
Then I was super excited because I could do it while I was in Revit, and didn't even have to go to the web page portal. But as I started using it more, I started to prefer working on the web platform, so I could be manipulating the model on another screen while writing issues. So I've kind of come full circle from I don't need this app to track issues, to ok tracking issues inside Revit is quite handy, to "okay it's nice NOT having to do this inside Revit."
(Editor's note: We're glad to give you options, Aaron!)
The bigger deal for us was: we were doing the issue process manually (and this is so cringeworthy) through manually formatted PDFs and email. Time savings is freaking huge not having to type out and format the PDFs. Creating an "issue" in our old workflow was like 90 minutes to 2 hours: Get screenshots, start word doc, Document the problem; insert images, fix formatting, export to PDF, upload to bluebeam studio, email to team, document responses back via Bluebeam, all manual. With BIM Track, on average for our projects, it's 15-30 minutes, per issue.
How do you explain BIM Track to those who have never heard of it before?
I call it a platform for documenting conversations. For us, that's what is super powerful about it. In our Reconciliation workflows, we have jobs where we've used email, BIM Track, or Procore. The biggest issue for us is the person who asks the question has to be the person who checks and accepts the answer. We'll use Procore when the GC is using it and accepting it. But the whole process is ruined if the GC accepts an answer that doesn't actually answer the question. Then the "chain of conversation" is gone, and it falls into emails etc. 
What's great about BIM Track is that it logs the conversation, and we're in control of it. There's full history, so we can't be hamstrung by the Owner or GC (or whoever is owning this issue). A lot of times an RFI will get closed but the issue really isn't solved. [BIM Track]'s also nice because it protects the design team from us too. If we take two weeks to accept and close an issue, that's on us. It keeps everyone honest. I tell people "BIM Track documents our conversations", which people really like.
What gets you excited about the future of this industry?
Retirement.
The future of the industry frustrates me.
Seriously.
I applaud those out there that are trying to change the industry; but everything I see is focused on the first 10% of the project. It's super frustrating, when you're someone who cleans up the last 50% of a project all the time. I don't want to see more animations of generatively designed buildings; I want to see generatively designed wall sections. I want to see coordination that's actually happening, from models that aren't bullshit. And Architects that don't say "well this typical detail overrides that modelled condition."  
The unfortunate thing is all the technology we have in this industry hasn't made it all better. It's made good teams better and bad teams worse. The average firm out there, the firm that isn't on twitter and going to BILTs, they are still having a really hard time doing their job better.  
I get it, people want smart layouts, etc. And some of these apps are really cool, like TestFit; it's amazing at what it does. A lot of our clients do multifamily residential design; it's a very niche thing and produces awesome results. But it's still focused on the first 10% of the job; the hard stuff still has to happen after. The hard part is doing the hard work, there's no silver bullet. Which is why we'll keep doing the work we're doing, even though it shouldn't exist. I call myself the trashman of BIM because there's so much sh*t to clean up. Credit for that name may go to Matt Jezyk, who made the quip to me over dinner once "Somebody's got to take out the trash". 
If BIM Track was a drink, what would it be and why?
Tequila shots. Because at first, I'm saying "I don't need this, this isn't for me." The next thing I know, I've had half a bottle, it's the next day, I'm on my friends living room floor - and what the hell happened here? 
Aaron Maller


Director at Parallax Team



---
National slot cars racing champion

 

Industry experience

16 years

Spirit animal