Are you new to BIM Track? Not sure where to start? 

We get it: adopting new tools comes with challenges, and it's important to keep your skills up to date, especially in the world of BIM. Fortunately, BIM Track is remarkably easy to use; its whole purpose is to make your work easier, more efficient, and flow more smoothly! 
Enter BIM Track Academy: a structured training program for the BIM Track platform, so that you can master both its fundamentals and its best practices. With BIM Track Academy's interactive courses, you will be guided on how to successfully implement its tools into your existing process and workflow.
Signing In

Once your team has purchased a plan and been granted access to BIM Track, you are able to access BIM Track Academy at any time. From the General menu click the BIM Track Academy button: it will open a new window and reveal your course options. 
You will remain logged in to BIM Track Academy as long as you are logged in to the main BIM Track platform, and you can even take your courses on the road with you by using BIM Track on a mobile browser. 
Why Should You Use BIM Track Academy?
While the BIM Track Help Center still remains a repository for information on how to use the platform, Track Academy takes a structured, interactive, and video-based approach. The learning goals are entirely self-directed: choose only the courses that are relevant to you and the work you do.
Once you have completed the training in a particular course, you are officially certified by BIM Track. This certification assures you and other stakeholders that you understand the platform and can easily integrate its best practices into yours.
Additionally, the courses are included as part of your BIM Track account, so there's no extra cost to going through the courses and earning your certification.
Your Learning Journey Through BIM Track
Then, once you begin the course you will have periodic interactive sections where you will be quizzed on the covered material. In this way you can learn exactly how to use each tool without needing any guesswork.
At the end of a course, you are granted a certification, which can be viewed in your hub menu. You can then see your Learning Achievements, and plan your future learning outcomes accordingly.
 Lastly, if you are a manager you will be able to see who on your team has completed various courses by looking through your team's roster.
What Training Courses are Offered?
BIM Track Academy covers A to Z training for the entire BIM Track platform, as well as giving advice, best practices, techniques and tools to improve your BIM workflows generally.
A full listing of courses is available once you connect to BIM Track Academy, but they include:
Launching and Maintaining your BIM Track Hub and Project

Cloud-based Issue-management

Revit & BIM Track for Project Design/Review/Modeling

Navisworks & BIM Track for Project Coordination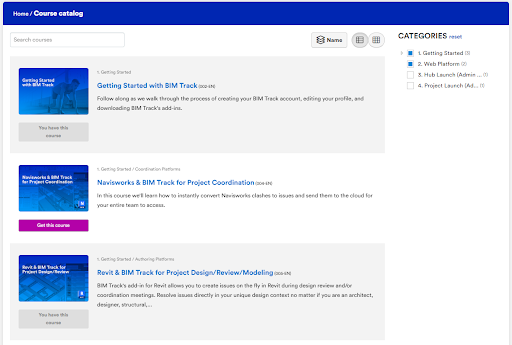 Additionally, new courses are being developed continuously, and will cover every other software with which BIM Track integrates. No matter how your team works, BIM Track Academy will teach you how to make the most out of the platform and the process you already use. 
What's Next?
What happens once your Learning Achievements are reached and your training is complete, but you still need a helping hand? Right now you have two options:
You can retake a course you've previously completed to get a refresher on how best to use the BIM Track platform

You can use BIM Track's established Help Center, which is an encyclopedia of information on the platform, searchable by any topic
For additional documentation on BIM Track Academy, visit the help center.