Happy New Year! 🎉 Phew, now that 2020 is behind us, we could all use a fresh start.

While you're nailing down those new year's resolutions, here are 7 issue tracking resolutions to try if you want to have more time on your hands (and less stress!) in 2021. Check out our short summary video below 👇 and enjoy the read.
1. Start early - don't wait until you're in construction 
This one kind of goes without saying, but we'll say it anyway. Detecting and resolving issues pre-construction is critical to saving time and money on rework in the field. Get people involved in coordination as early as possible. For example, bring the contractor in during the design phase for a "design-assist" process, or be sure to involve complex sub-trades like curtain wall or electrical design early to provide insight into constructability.
2. Geo-reference your models properly
This one's sure to trip you up if you don't do it right from the start. Make sure you're using the same coordinate system across softwares, for example if you are using the real geographical location on the real map, and not just 0-0. Setting up Revit shared coordinates properly is a must if you want to share issues across multiple platforms using BIM Track, and locate issues in the model with one click. 
BIM managers explaining how to setup a shared coordinate system pic.twitter.com/1x9dUwbfLs

— Tony Perez (@pereztony) December 30, 2020
3. Define your issue tracking workflow
Who creates issues, who reviews them, and who is in charge of final validation before closing the issue? Make sure you think about this and clearly document your process so it's crystal clear, and everyone knows their part in the process. 

Fig. 1.0: Issue tracking workflow during design phase from detection to resolution. 
Put those design skills to use and define a well-structured, consistent issue tracking workflow for your entire team to follow. From running clash detection and raising issues, coordination meetings, assigning issues, validation, through to closeout. For more in-depth advice, check out our full blog post on how to optimize your BIM coordination workflow. 
4. Track more than just clashes
We've made the point before that issue tracking is about more than just clashes. To really centralize your coordination efforts, you should be using your issue tracking platform or method to include the whole range of design coordination issues, not just clashes.
For example, you might have a question or comment that needs validation. You might want to assign someone a task. You might want to share a picture or screenshot. Traditionally, these kinds of issues don't have a process to address and resolve them. That's why we designed BIM Track with a range of features to support issue tracking, not just clash detection and resolution: attach documents, comment on issues, notify individuals easily, and get the job done!  
Fig. 2.0: Track more than just clashes using BIM Track's issue tracking features. 
"Coordination via BIM Track is not limited to BIM ... Our use goes further. Many actors on BIM Track also use it to fulfill "non-BIM" needs (administrative, contract management, etc.). BIM Track allows us to organize, finance, log, and trace the life of a project to avoid "disruptions" (online losses) during the transitions of the major phases of a project ... Time is money; BIM Track saves us time." - 
Damien Haultcoeur, 
BIM Manager at
Bouygues Bâtiment Centre Sud-Ouest
. 
5. Embrace automation 🚀
Automation isn't going to steal your job, it's going to make it better! You can save time performing repetitive, manual tasks, and use it in more impactful ways like actually crafting that award-winning design. The small amount of time it takes to set up automation upfront more than pays off in the long run. One of our favorites at BIM Track is the "View in model" feature - this button takes you directly to the issue location in our add-ins with Revit, Navisworks, Tekla, AutoCAD, and Archicad for lightning-quick resolution. Our clients at Austin Commercial estimate that this saves their team 2-5 minutes per issue!

Fig. 3.0: Automation features like "view in model" will shave precious time off your issue tracking process.
If you're managing clash detection, you should also use a clash grouper, which helps you organize and sort through long lists of clashes so that they become easier to review and resolve.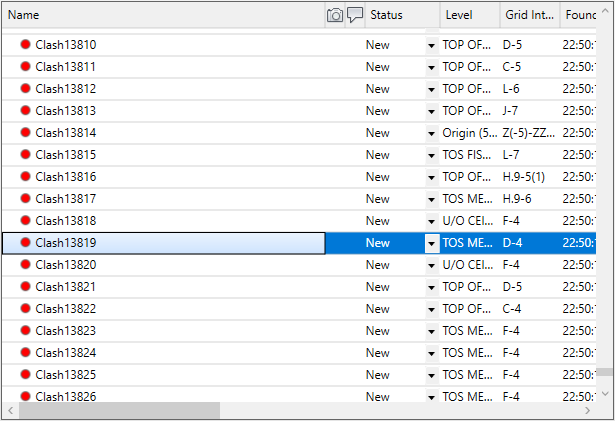 Fig. 4.0: Sort through long lists of clashes with a clash grouper.
6. Level up your coordination meetings
Coordination meetings, whether in-person or online, are a mainstay of any weekly issue tracking workflow. Make sure you're getting buy-in from key players, ending meetings on-time, and addressing the most important issues by consulting our mega list of 50 tips for better coordination meetings.
While you're at it, try out BIM Track's automated issue reports to speed up preparation for coordination meetings. Set up your quick filters once, then have issue reports automatically sent out to your team members before meetings. It's too easy, really!

Fig. 5.0: Create and send out issue reports automatically to make coordination meeting prep easy.
7. Our challenge to you: Say goodbye to emails in 2021! 👋
Surely, with all the digital transformation of the past year, we can do better than emails. Who has time to scroll through never-ending email threads to locate an issue that was assigned last week?
According to a University of California-Irvine study cited in the Harvard Business Review, switching tasks constantly to check your emails can be a huge drain on your productivity, taking upwards of 20 minutes to regain momentum following an interruption.
Instead, say "hello" to in-context communication. 👋 With BIM Track, you can comment on issues, assign issues for resolution with a due date, and add attachments directly to the issue thread.
Fig 6.0: Instead of emails, share comments, images, pdfs, and more directly in your everyday software using BIM Track.
Why wait? Try it for free and see how BIM Track could simplify your issue tracking process in 2020! 🎉