Sure, BIM Track is designed for, and most widely used during the pre-construction phase for BIM coordination. But did you know that BIM Track can be used to track much more than just clashes? 
In this article, we will highlight some of the innovative and unusual ways our clients are using the platform. From health and safety to home renovations, keep reading to see just how many things you can do with an issue-tracking platform like BIM Track. 
P.S. If you have a creative use case you'd like to share,
reach out to us and maybe we'll add it to this article!
😉
Check out this video summary, or dive straight in. 
Virtual Jobsite walkthroughs 
With site access still limited in many places, being able to do virtual jobsite walkthroughs is a big plus. Teams can use BIM Track's web viewer to explore the model for health and safety inspections, logging issues directly in the model as they spot them, or for taking a group through safety training before arriving on site.
Equipment Installation 
Moving beyond the design phase, many clients are also using BIM Track on the facility management side. For example, you could use an "installed" status to keep track of what equipment was installed and when, and attach the unit specs as an attachment. 
Furniture, Fixtures and Equipment (FFE) Tracking
Here's an example from Luc Nugent, who shared how his team at IDEA.Inc are using BIM Track to manage furniture, fixtures and equipment (FFE) tracking.  
The team at IDEA creates FFE issues to keep all the relevant information in one place, and to facilitate easy coordination with stakeholders. Files with additional information such as specifications are attached to the issue for ease of reference.
Team members outside IDEA can access (self-serve) reference material normally found in internal server folders, so in this case BIM Track also provides a simple alternative to shared folders.
This use case is also convenient for modelers, who can update these FFE Reports directly from their native software, Revit, with BIM Track's Add-in. 
Contract management
Damien Haultcoeur, BIM, Innovation & Digital Transformation Manager at Bouygues Bâtiment Centre Sud-Ouest describes how his team use BIM Track for non-BIM administration: 
"Coordination via BIM Track is not limited to BIM: one would consider BIM Track as an elitist tool dedicated "only to BIM people," which is not the case! Our use goes further. Many actors on BIMTrack also use it to fulfill "non-BIM" needs (administrative, contract management, etc.). BIM Track allows us to organize, finance, log, and trace the life of a project to avoid "disruptions" (online losses) during the transitions of the major phases of a project. Time is money; BIM Track saves us time."
Damien Haultcoeur
BIM, Innovation & Digital Transformation Manager
Bouygues Bâtiment Centre Sud-Ouest
You can read the full interview here.
Here's an example of how teams could use a BIM Track issue to follow up with contracts, with any pdfs to be signed included in the "Attachments" tab. The description reads "could all teams please upload PDF versions of your Phase 3 budget to this issue before the end of the month (June 1st deadline)." BIM Track makes it simple to specify the issue type as "financial", give it a due date, and to tag relevant individuals or teams. 
News & Site Updates 
If you have an update you need to communicate to the whole team, a "Newsflash" style issue can help you get the message out. For example, let's say the project site is closed today because of flooding on the back west corner. You can send out a "NEWS" issue with high priority and relevant teams tagged. People will be notified not only via email, but also directly in their everyday software via BIM Track's add-ins and integrations.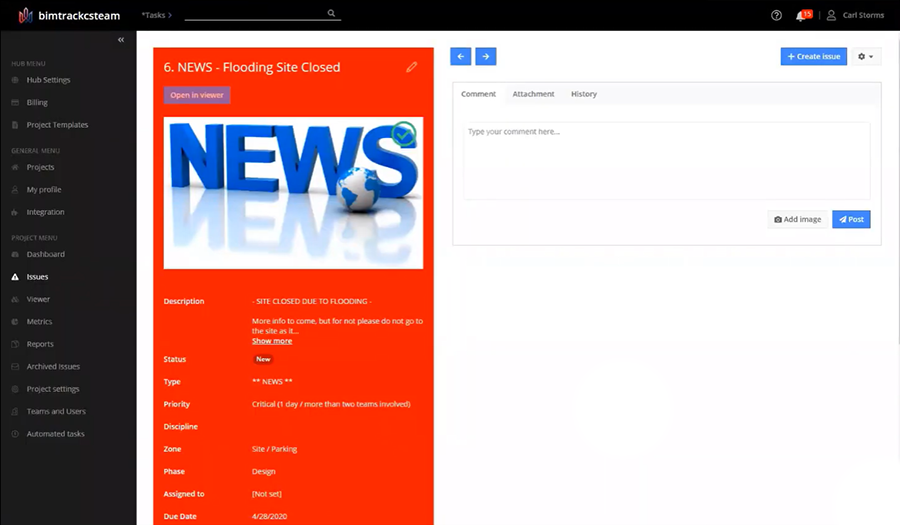 Document sharing
Important documents such as the BIM Execution Plan can be shared inside a BIM Track project to give easy access to all stakeholders. Attach pdfs or images to an issue and make sure the right people see it (or don't see it!) with custom visibility. 
BIM Submittals
In our case study with Hoffman Construction on the Seattle Light Rail Expansion, Philip Bergsieker shares how he uses BIM Track to manage BIM submittals. The team used BIM Track's reporting feature to organize and inform the BIM submittals due at each Issued for Fabrication (IFF) milestone in the coordination schedule. BIM Track's issue attributes enable the coordination team to organize and filter through layers of coordination issues and get to those that are important enough to be reported. 
The report generated is then attached to the sign-off document, with any exceptions that need to be addressed in the field noted. These reports are an easier way to generate a snapshot in time of progress in the coordination process, and make it easier to move forward without delays. 
Encouraging subcontractor engagement
#BIMTracker Darren Roos is always finding innovative ways to engage subcontractors in the BIM process. Just check out his Candy Bar Technique for proof! Recently, his team at Bernards came up with another creative way to encourage subcontractor engagement. 
"We have a checklist of basic things we need our subcontractors to do at project startup and then reward them with something if they have all of it completed. We recently decided to spice it up a little and give progress awards."
Darren Roos
BIM, Innovation & Corporate BIM/VDC Director
Bernards
One of the first achievements on the checklist is completing their BIM Track registration. Once they do, they are emailed a certificate.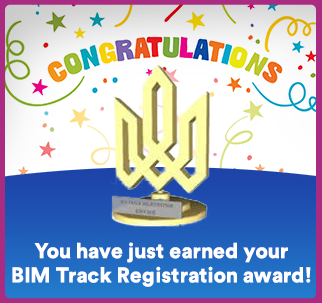 After that their 3D trophy is added to the trophy case in the project model: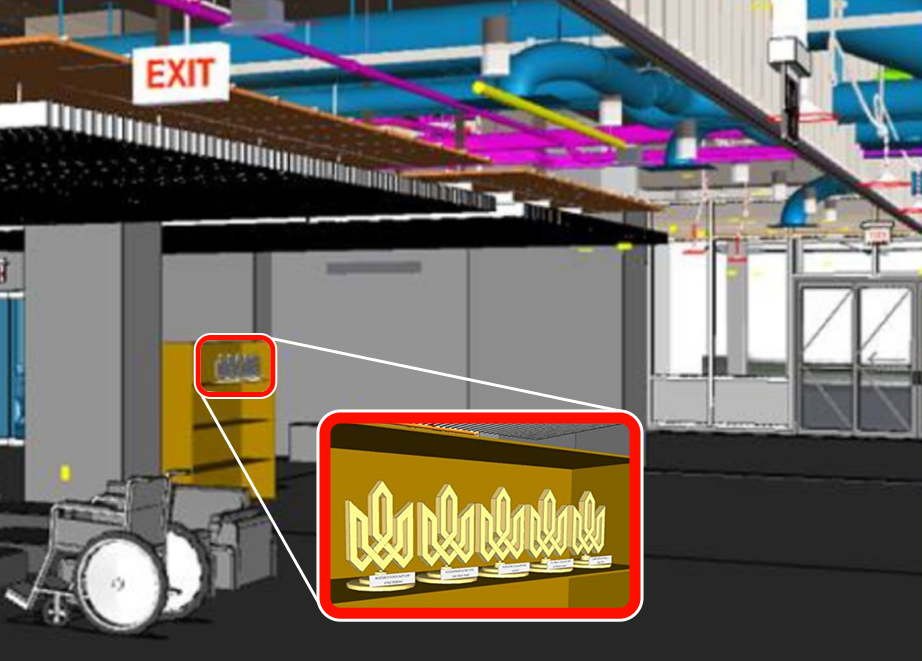 Prepping for a presentation, event, or webinar
Here's a slightly left-field use case from our very own Carl Storms. As a regular on the BILT, Autodesk University, and CanBIM speaking circuits, Carl knows a thing or two about preparing for sessions. Turns out one of his secret weapons is using BIM Track to organize his preparation! BIM Track facilitates collaboration, back-and-forth communication, sharing files and datasets via attachments, and helps track important deadlines while staying in a familiar web environment. 
"When working on a presentation, and in particular technical ones, BIM Track is a natural fit as a place to collaborate with my fellow presenters. We are able to store all our thoughts and files in one place while being able to address dataset issues that arise while testing the content directly within Revit, or Navisworks, or Enscape or VREX..."
Carl Storms
Technical Solutions Lead
BIM Track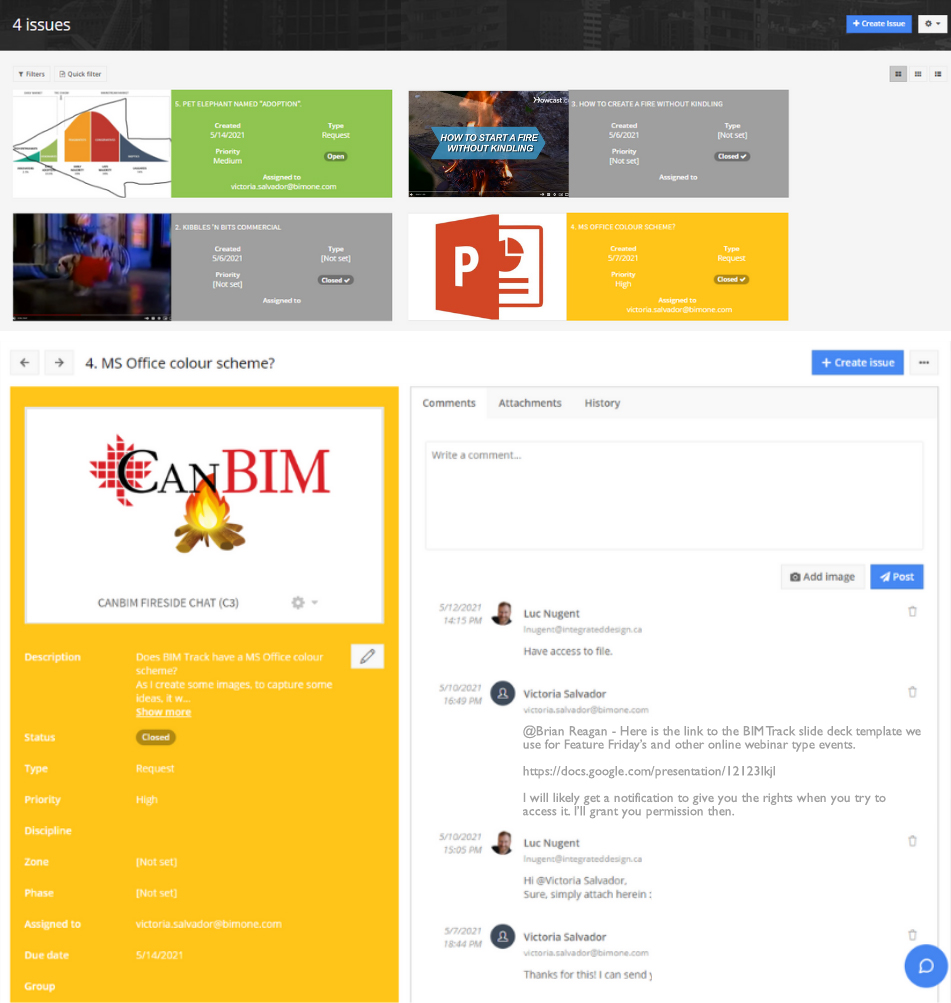 Sharing home renovation designs
With all the time we've been spending at home over the past year, you can bet home renovations have risen higher on our to-do list! Here's how some of the BIM Track team have been using the platform to assist on the home front. 
Customer Success Manager Matthew Londei is the kind of neighbour we all want to have. When his neighbour shared his plans to build a garden shed/shack/entertainment venue, Matthew threw together a design in Revit and was able to share the model with him in an easy, accessible way in BIM Track's web viewer.
Our VP Sales & Marketing and former Architect Christian Proulx is in the middle of his own building project on home turf. He uses BIM Track to share design feedback on his contractor's 2D plans and manage the project in a simple, visual way. 
Thanks for reading! 
Thanks for taking the time to explore these weird and wonderful applications of BIM Track with us. We'd love to hear how you're using the platform - you can reach us at marketing@bimtrack.co if you'd like to share your own use case. 👍